CA' DI SOPRA
FAENZA • EMILIA ROMAGNA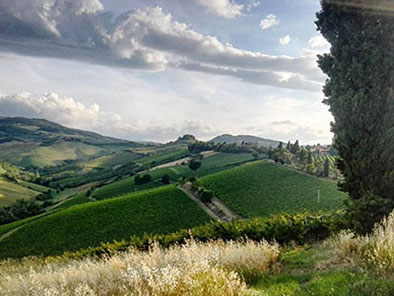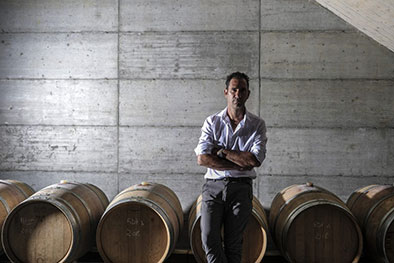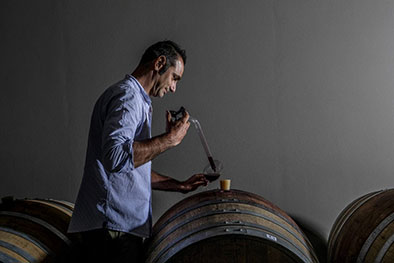 Ca' di Sopra is hidden away in the hills of Marzeno, as so many small wineries are in one of Italy's more underappreciated productions zones. These hills just outside of Faenza are home to brothers Camilo and Giacomo, the third generation of their family at the property, but really the first to focus on bottling rather than selling their grapes. 2006 was a landmark year for them, having produced 1,700 bottles rather than selling off all of their grapes, and they have grown year over year in this small corner of Romagna.
Camilo and Giacomo's grandfather initially purchased this property in 1967, and the vineyards have always been primarily dedicated to Sangiovese, as so many are here. The plantings at the winery have had a mixed history, checkered with Chardonnay, Trebbiano, Cabernet, the local Albana, and Pinot Bianco. The whites express a great deal of minerality and complexity, helped by the fact that this part of Romagna was once under the sea and the soil consists of ancient fossils and limestone. The reds tend to be on the elegant side relative to the rest of Romagna, Marzeno being the most historic and important local production zone.
The family business has been growing steadily, thanks to Camilo's background in business and Giacomo's focused winemaking. Production is still very small, around 30,000 bottles per year, but the area of Romagna has started focusing more efforts on supporting these smaller, higher quality winemakers. In a zone where the majority of folks are still selling their grapes to cooperatives, it's great to find folks investing in themselves.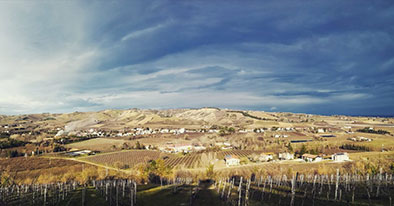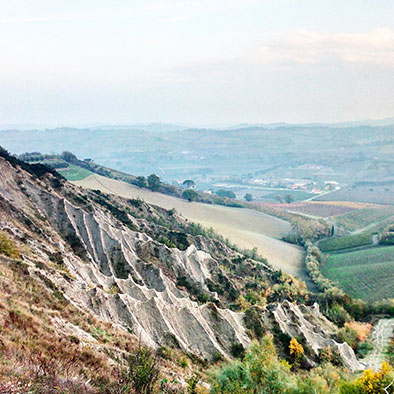 Ca' di Sopra, or house on the hill, seems isolated in it's own beautiful valley. The rolling hills of the area are mixed with their vines and apricot trees, as well as local farmer's kiwi plants and olive trees. Vines go as far back as the 70s, with old plantings of Chardonnay and Trebbiano being replaced for more of a focus on Sangiovese, Albana, and Pinot Bianco, along with some older Cabernet and Merlot. The area planted to vine is about 29 hectares, a few of those being taken up by apricot trees.
Soil here was once under the sea, so there is a diverse mix of sandstone, along with clay and calcareous soil, anywhere from 120-250 meters. The farm uses a mix of organic and biologic methods, not vying for certification as the apricot farming presents certain challenges that prevent them from doing so. They hope total production will reach 35-38,000 bottles in the next few years.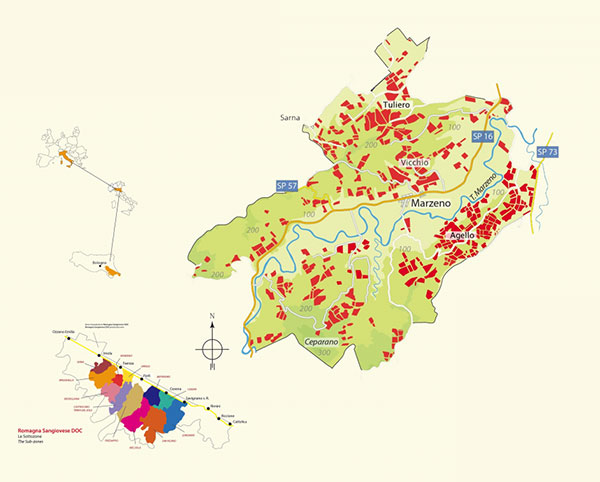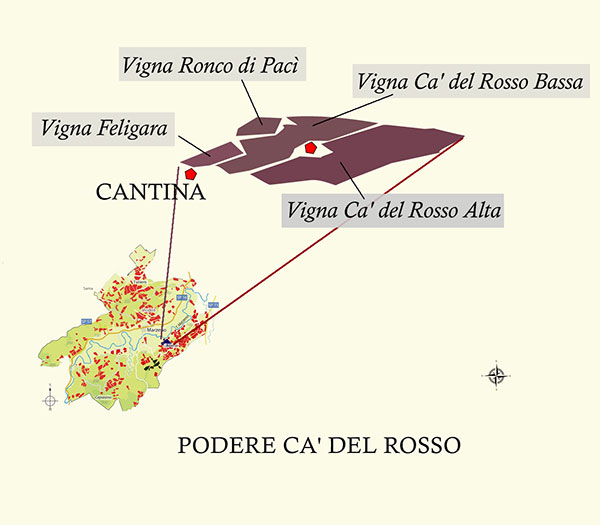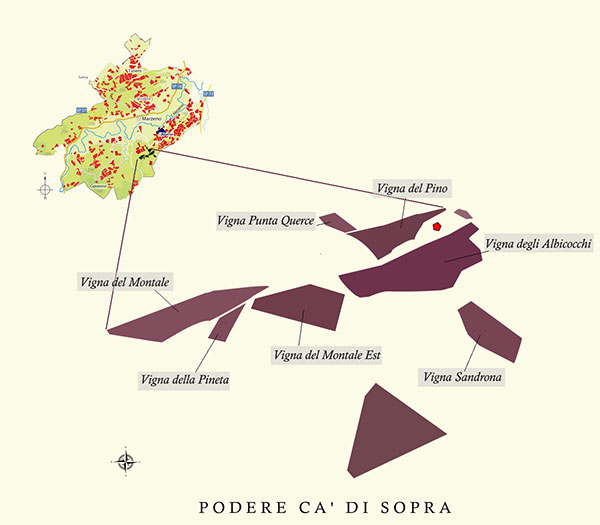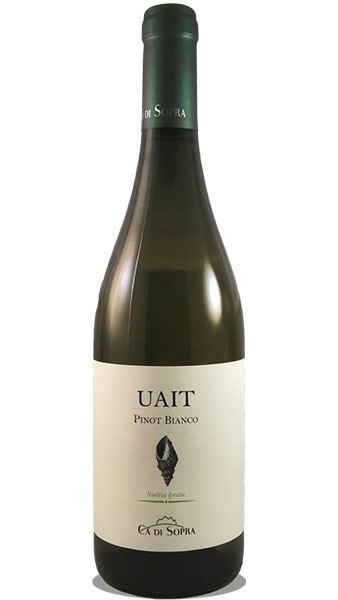 UAIT
Varietal : Pinot Bianco 100%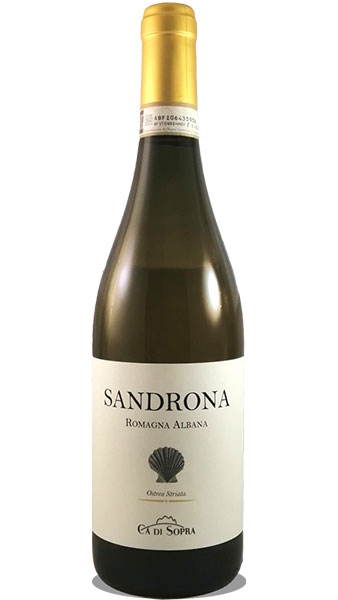 Sandrona
Varietal : Albana 100%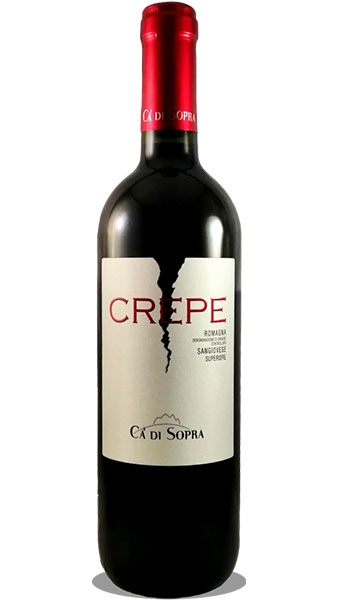 El Crepe
Varietal : Sangiovese 100%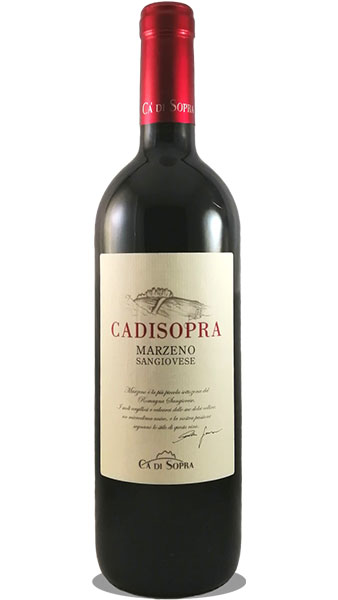 Marzeno
Varietal : Sangiovese 100%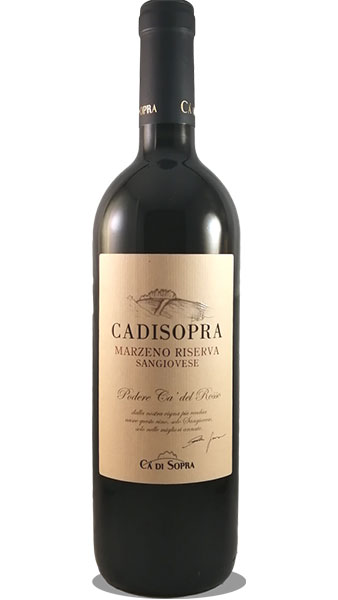 Podere Ca' del Rosso
Varietal : Sangiovese 100%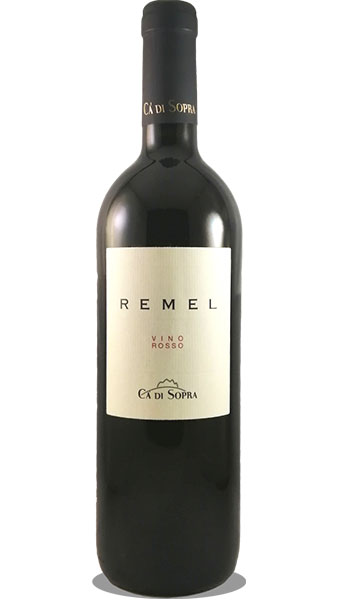 Remel
Varietals : Sangiovese 50%, Cabernet 25%, Merlot 25%