MASSERIA STARNALI
CAMPANIA • BIODYNAMIC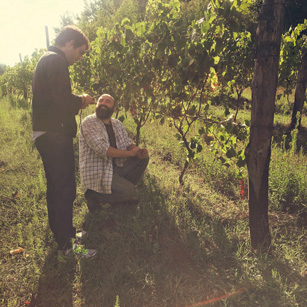 Entering the property of Masseria Starnali is like stepping back in time. After winding through the mountain roads of Galluccio, you arrive at a farm that seems to be the only occupant of the isolated slopes of Roccamonfina. They do have neighbors on this ancient volcano, and they do have modern amenities, but both are scarce. Masseria, farm in English, is exactly that, with everyday life revolving around nothing but what is grown and raised on the property.
With all that said, it was a surprise to taste one of the most inventive and progressive wines we have tried in the simplistic living room of Maria Teresa and her son Lugi. In the background, Luigi's two young children run around the table giggling and shouting, in the foreground, Luigi and our enologist friend Gennaro discuss why a bit of skin contact goes such a long way in the making of Starnali's Falanghina. In a relatively young and inexperienced winemaking career, Luigi was not afraid to tinker and experiment, and the resulting Falanghina surely paid off.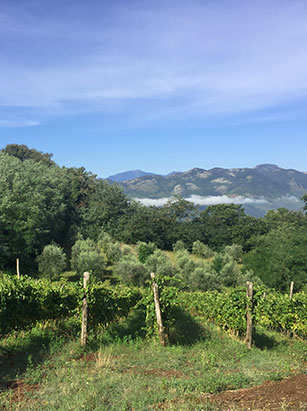 Maria Teresa purchased the property of Masseria Starnali along with her late husband over 30 years ago. The property was originally used to hunt starnali, a local pheasant-like bird, but that has stopped ever since it became a protected part of the Roccamonfina national park. In 2005 Maria Teresa built the cellar with the dream in mind of making the wines they do today. The properties' 30 hectares, 7 which are planted to vine, lie on the northern edge of this extinct volcano, with 450 meters of elevation and ocean breezes leading to a noticeable diurnal range.
All of the property is farmed biodynamically, with no fertilizer or pesticides used and practically everything done in house. Maria Teresa runs a small agrotourism while Luigi tends to the farming and agriculture, which includes taking care of a dozen or so small pigs. Major production here is for the local chestnuts, which grow throughout the property. Luigi had initially been selling his grapes along with his father for the past 30 years, and only recently started his own winemaking 7 years ago. Over those 7 years, he explains that everything has been trial and error, and vintage to vintage is a learning experience. His beliefs in no pesticides or fertilizer are so adamant that he will be losing a great deal of his red grapes to a water mold this vintage.
Aside from the chestnuts, eggplants, pomodoro, olive oil, and fresh salsiccia produced here, there are of course the wines. Grown on a mix of ancient volcanic soil along with clay and calcerous components, the terroir at this elevation is quite unique. Very woodsy terrain, extreme diurnal range, and ocean influence from nearby Gaeta, the wines here are quite different from most Campanian wines, both on the Falanghina side and Aglianico/Piedirosso blends. There seems to be a benefit to living in such an isolated place and constantly tending to the land, as Luigi doesn't have the time to care or be influenced by the styles of wine around him, he just makes what he feels is best.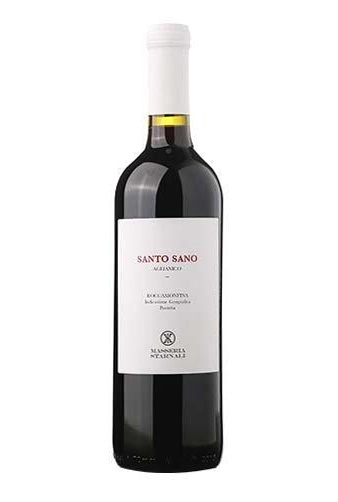 Santo Sano
Varietal : Aglianico, Piedirosso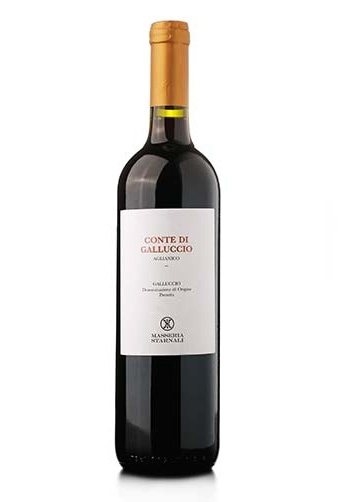 Conte di Galluccio
Varietal : Aglianico 100%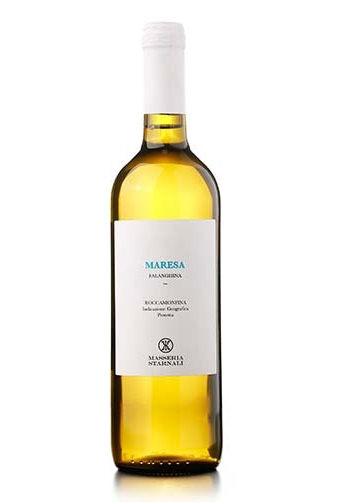 Maresa
Falanghina Roccamonfina IGT
Varietal : Falanghina 100%
Ferlu
Varietal : Aglianico 100%