VIGNE GUADAGNO
AVELLINO, CAMPANIA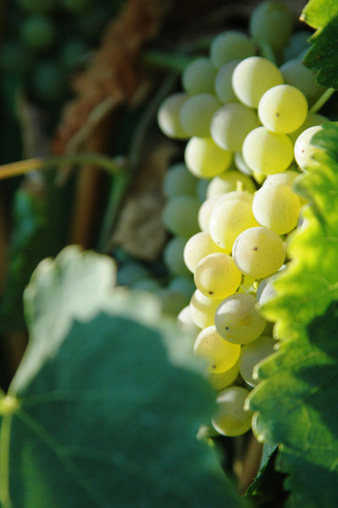 A theme is beginning to develop within the Mucci Imports portfolio, maybe you've taken notice. Many producers are brand new to the game, starting within the last 10 to 15 years. This isn't a requirement of mine by any stretch, and I certainly love working with our more experienced winemakers.
However, working with such young producers offers the unique opportunity to grow together. A young producer is seemingly always willing to go to the extra mile for you, which is crucial in this incredibly complex industry of ours.
Vigne Guadagno is another young winery, founded in 2010 by two brothers Guiseppe and Pasquale, who hail originally from the Avellino. It's been a dream of theirs to make wine in their home region, and after much sacrifice and hard work in the manufacturing sector, they are now able to make their dream a reality.
The brothers handed the reigns to my good friend Gennaro Reale of Vignaviva, who helped them select highly coveted vineyard sites to grow Greco di Tufo, Fiano and Aglianico. It's worth noting how diverse the Avellino is in terms of soil, elevation, and microclimates. The perception is that all of these grapes are grown right alongside each other, but it is quite the contrary. In fact, driving from Santa Paolina (where Guadagno's Greco di Tufo is planted) to Taurasi takes 30 minutes, and in the end it seems as though each wine grows on a different set of hills than the other. That being said, finding specific sites within the designated growing area of Greco, Fiano, and Aglianico was an essential aspect of getting Vigne Guadagno off to the right start.
Like many small producers starting out, Guadagno uses the cellars of fellow wine producers to make their wines. In fact, on my most recent trip there, I witnessed this unique camaraderie during harvest. There were several winemakers bringing in grapes to a winery called Antico Castello in the Avellino (who I've known for years) and destemming and pressing grapes one after the other. Antico Castello has a lovely winery with enough tanks to allow these producers to go through the winemaking process all there on site. Spending those few hours listening to the dialog amongst producers was priceless and extremely educational.
It's hard to explain the potential for the wines of the Avellino without visiting. It's a mountainous region that seems more like Alto Adige than it does Campania. Incredibly, Avellino is an hours drive from the Amalfi Coast!
In Tufo you have a layer of chalk, limestone and quartz over the famous "tufo" bedrock. This tufo is a soft volcanic substrate found a few meters underground. This first layer of chalk and limestone provides incredible minerality to the wines here. Another factor is the weather and elevation of course. Hot days turn quickly to cool nights and winters can be rough, not Boston rough, but still pretty extreme. Even on a warm day in Amalfi there can be a noticeable temperature drop, particularly during the Spring and Fall. Elevation in and around Tufo is in the ballpark of 400 to 600 meters. These are high elevation wines and people should start thinking of them that way!
Tasting Greco and Fiano from the tank (while fermenting or even a few months into the aging process) was like eating something spicy when you are not prepared for it. There is no spice (full disclosure) but you are hit with an incredible minerality that almost causes you to choke, like spice would. It was tasting this way where I could fully understand the potential for these wines.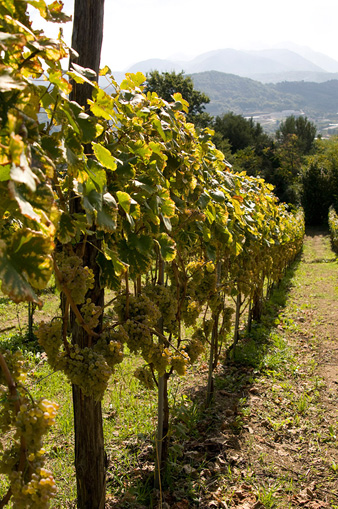 Greco di Tufo became a D.O.C.G. wine in 2003 and is arguably the least understood of Italy's great wines. Greco di Tufo wines must consist of 85% Greco. There are just eight towns that make up this denomination, starting with the actual town of Tufo, which is the heart of this production zone.
Outside of Tufo there are several other cru sites where soil content, elevation and sun exposure all vary. One such site is Santa Paolina, where the vines of Vigne Guadagno lie. This property is no more than an hectare of extremely steep terrain. The vines seem to be hanging off the side of the mountain. The soil is the typical soil of tufo but with chunks of chalk mixed in along with layers clay and some veins of excreted sulfur. Historically the Avellino was full of sulfur mines and by the first World Wine this region was responsible for mining up to 5% of the worlds sulfur.
This vineyard is located at close to 450 meters. There are about 4,500 plants per hectare. Because of the extreme terrain everything has to be done by hand. The vineyard is about 30 years old but was rejuvenated once purchased by the Guadagno brothers. They changed the vine training system to Guyot and worked diligently to create a healthy vineyard site.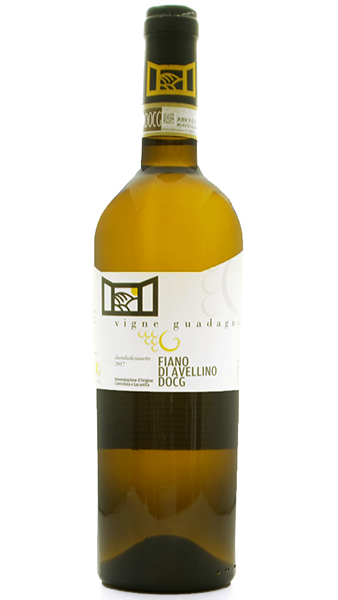 Fiano di Avellino
Varietal : Fiano 100%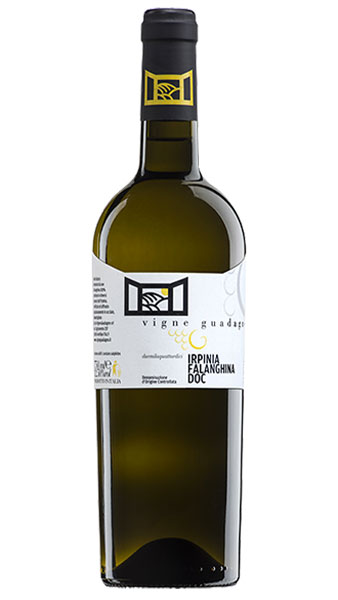 Falanghina
Varietal : Falanghina 100%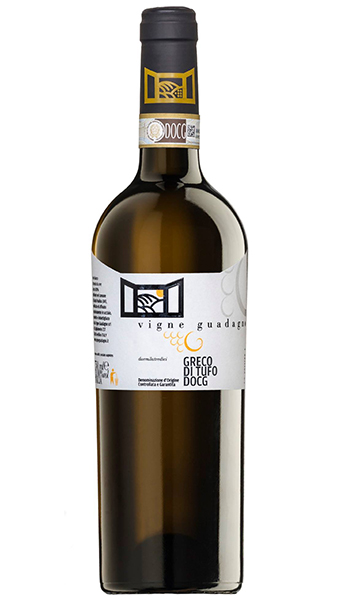 Greco di Tufo
Varietal : Greco di Tufo 100%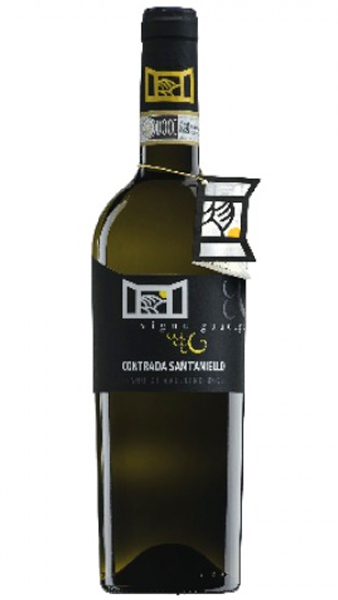 Contrada Sant'Aniello
Varietal : Fiano 100%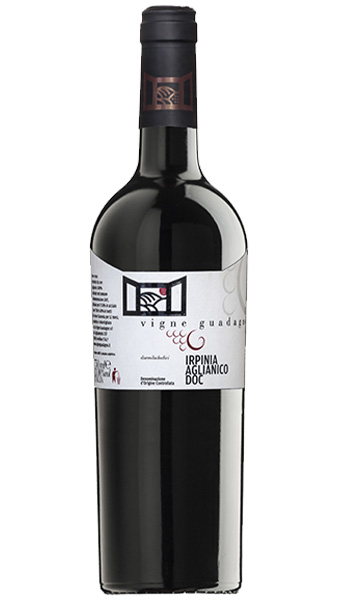 Guadagno Aglianico Irpinia
Irpnia DOC
Varietal : Aglianico 100%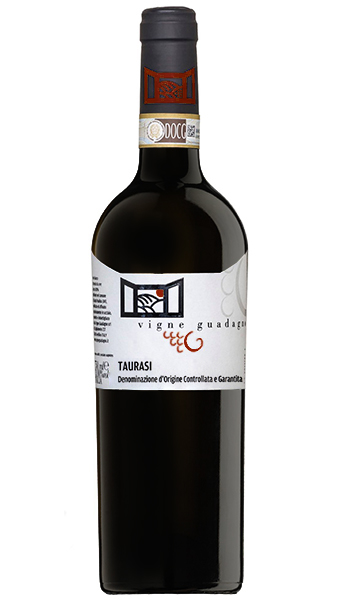 Guadagno Taurasi
Taurasi DOCG
Varietal : Aglianico 100%