LE VIGNE DI RAITO
AMALFI COAST • CERTIFIED ORGANIC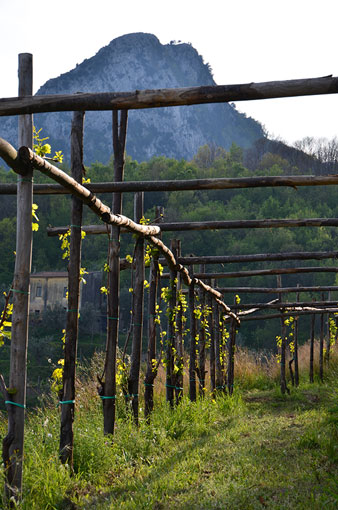 When searching for winemakers, I tend to be drawn to those that I share some common ground with. Patrizia Malanga, much like myself, has had her life completely turned around in the last 10 years. She went from life in the beautiful city of Salerno to a life of making wine on her terraced vineyards in Raito, about a 15 minute drive from the city on the Amalfi coast.
Patrizia is in the midst of setting up an agriturismo, where she welcomes guests from all around the world. Visitors are treated to wine tastings and meals on her beautiful terrace, which overlooks the Bay of Salerno. She cooks for her guests, preparing regional dishes with relative ease, just one of her many talents. Trust me when I say this, a visit to Le Vigne di Raito will be the highlight of any trip!
Patrizia's winery sits on about two hectares of land. In 2001, she began the very tall task of reworking the land and replanting vines. The property of Le Vigne di Raito had previously been home to wine production, but it had been all but abandoned when Patrizia showed up. She planted Aglianico and Piederosso, two indigenous varietals from Campania, creating a powerful blend of the two that she calls Ragis. She makes a few thousand bottles of a wine that I believe will begin to attract a cult following like some of the other great Aglianico's from Campania. Her wines are aged in a very unique cellar that was used hundreds of years ago for the very same purpose.
It's astonishing how Patrizia is able to produce such a beautiful wine in such tough terrain. Just by looking at the picture of the winery, one notices how difficult it must be to maintain anything on such a treacherous and steep plot of land. A journey to the top of the terraced vineyards certainly puts the walk up to my 5th floor North End apartment to shame.
Le Vigne di Raito is an organic vineyard, and having spent several days with Patrizia on the property, I noticed how seriously she takes this type of farming. She has a maximum respect for the land and produces only natural wines. The winery is a botanical garden of sorts, showing off all the local flora of the Amalfi, including lemon trees (she has a beautiful lemon grove at the lowest point of the property that she makes Limoncello from), olives, and almods, among others. This is very important to Patrizia and it helps give such vitality to the vines.
Patrizia's first version of Ragis was in 2007, and she has 2008 and 2009 currently out on the market. Tasting the three together at the winery is a unique way to understand Patrizia's journey. In general, this is a great way to taste wine and really understand a wine-makers philosophy, but one can also begin to understand how much they are at the mercy of the elements. The Amalfi is a hot region with tremendous sunshine seemingly every day, if you've visited I'm sure you can attest. Some years can be warmer than others, and winemakers need to make judgment calls and certain sacrifices based on how the weather behaves. No matter the skill of the winemaker, natural elements are a force that can't be underestimated.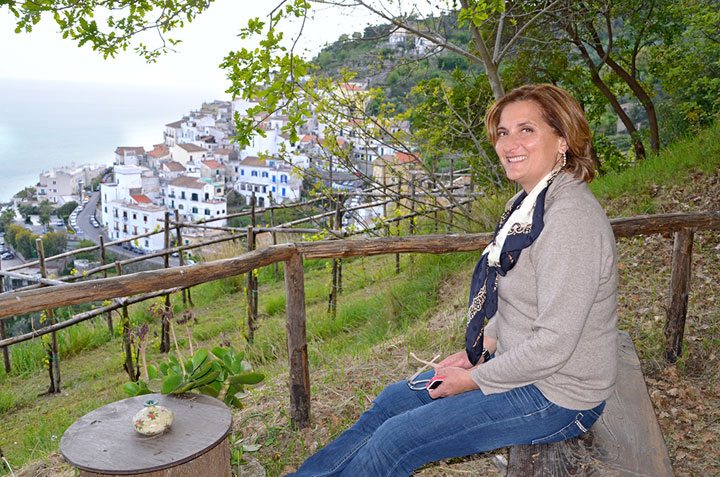 Dare I say that Le Vigne di Raito is one of Southern Italy's most beautiful wineries and represents "heroic winemaking" at its finest. In fact, Patrizia planted each and every vine present on the property in 2003. From that point, this became the only vineyard on this part of the Amalfi Coast.
Vines are South/Southeast facing and located at about 200 meters above sea level. The vines seem to be hanging on for dear life and were planted on a terrace system that winds its way up the property. The property is two hectares in total size and each time I go back there is a tiny slice of vine planted on a new corner of the property. Rows have been created out of nothing, and recent additions of groups of 4 or 5 vines are not uncommon to maximize on space. Unless she is able to purchase nearby property and plant more vine, there is room to grow.
There are 3,000 plants per hectare planted, all are trained to Guyot, except for the Piedirosso. This is planted as a canopy at the tippy top of the vineyard. The first bud of the Piedirosso is not productive, thus creating a canopy allows for the vines to spread out and be more productive.
The vines are truly exposed to the elements, but there is a relatively thick woodsy area at the highest point of the property that helps protect the property, at least in one direction.
No machine can dare pass through these vines (let along make it all the way up the mountain to the property itself) so everything is done by hand, everything. Patrizia is a minimalist and truly believes in the strength of her ecosystem to protect her vines from potential threats. Like many in the Mucci Imports portfolio, Patrizia treats her vines only with zinc and copper.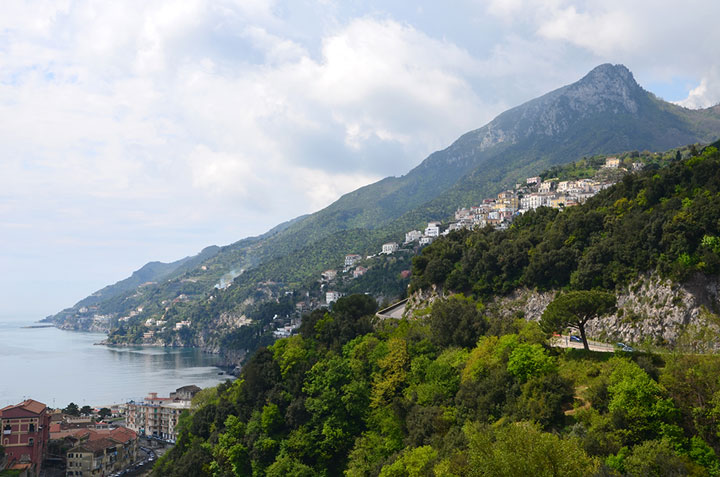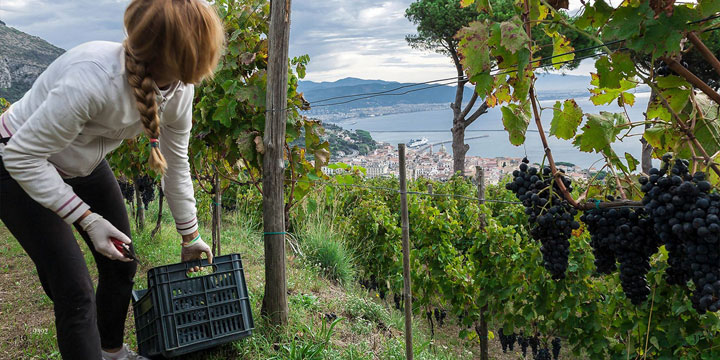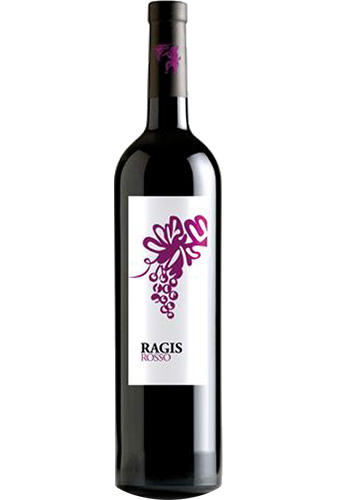 Ragis
Varietal : Aglianico 80%, Piederosso 20%