NICOLA DEL NEGRO
SAINT-PIERRE, VALLE D'AOSTA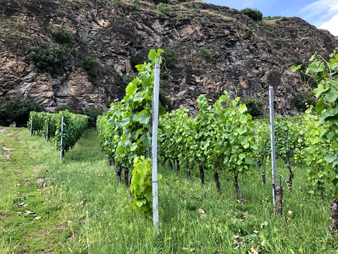 Nicola Del Negro is an enologist for the Morgex cooperative at the highest altitude in Europe, located in Chambave within the Valle d'Aosta. However, his dream since the age of 11 was to produce his own wines.
His parents planned for that day to come, as in 1996 they planted a vineyard of Torrette, Pinot Noir and Petite Arvine with the hopes that their son would one day bottle wines from this plot.
Nicola eventually enrolled in the University of Milan where he studied enology and worked for several years in Switzerland before returning home in 2011 to help his cousin. His cousin had a vineyard in Chambave, and needed an extra hand to assist with harvest. While working within Chambave, Nicola eventually found a job at arguably the most important coop in Valle D"Aosta. Nicola has grown in his role, while continuing to work on his family project. He hopes that in 2 years he can live off his farm alone. Right now he's relying on the help of his parents, who are retired, to assist him as he pulls double duty.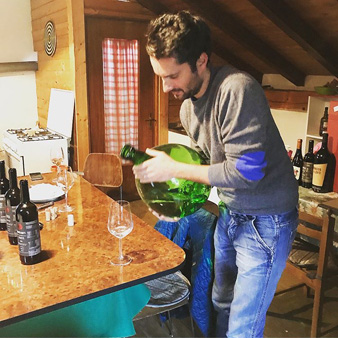 Very important steps have happened just recently. 2017 was the first official vintage of Nicola's own wines, and 2018 included the completion of his own small cellar.
Beyond the property that his parents planted, he takes a hectare of fruit from his cousin and rents a few other small sites (2800 meter x 5500 meter plots, very small). If he's lucky, there are three hectares in total. The challenge here in Valle D'Aosta is piecing enough property together, as often times you own 5 rows, your neighbor the next five, and maybe his cousin the next.
Saint Pierre, where the winery is located, is just west of Aosta on the way to Mont Blanc. It is here where Torrette wines are produced, which are made of mostly Petite Rouge. In Saint Pierre, you have vineyards literally built in the rock, which helps warm up these vineyards. Because of that added heat, you have surprising maturity on the vine, crucial for Nicola to attain surprising structure in his wines within such a cool climate.
Nicola has a technical expertise that I truly admire, and he has clear ideas of what he wants to do with his wines. Most of the work is done in the vineyard, and it's all blessed by the incredible climate in Valle D'Aosta. There is very little rain in the mountains, so he hardly has to spray copper and sulfur in the vineyards, and he allows his vineyard to grow wild. He is careful with the use of copper, as he believes it could leave traces in the soil, so he tries to use it sparingly.
As of 2018, given that the cellar is ready, Nicola will begin to introduce some oak to his wines, but as of now the wines see only stainless steel. He wants his wines to see plenty of time on the fine lees, with battonage every 15 days, as he feels that if you've worked well in the vineyard then you have wonderful, terroir driven lees.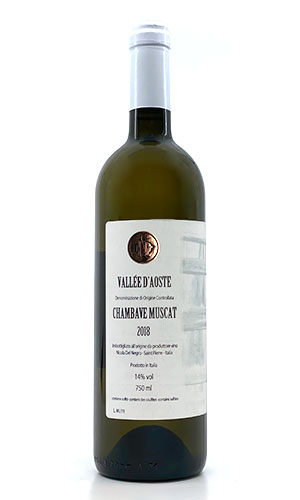 Chambave Muscat
Varietal : Muscat 100%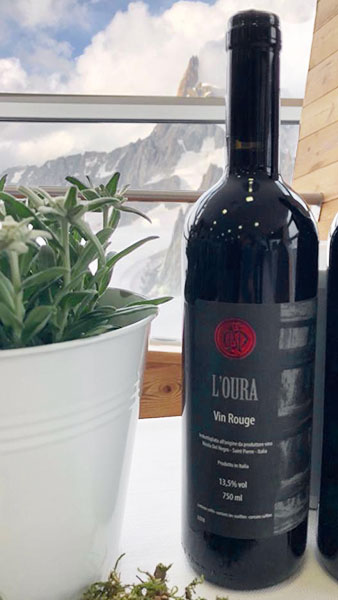 Oura
Varietal : Dolcetto 50% , Barbera 40%, Petite Rouge 5%, Pinot Noir 5%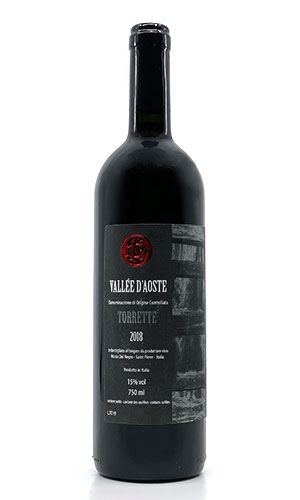 Torrette
Varietal : Petite Rouge 90%, Pinot Noir 10%