CANTINE VALENTI
MT. ETNA, SICILIA • ORGANIC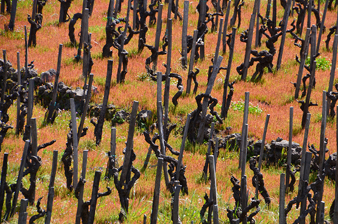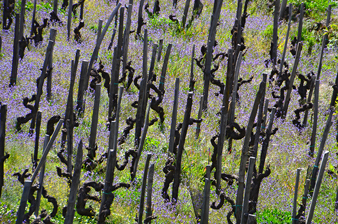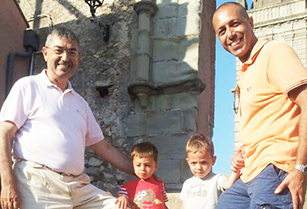 What is the most impressive terroir in the world? For my money it's Mount Etna in Sicily. Bold statement, but it's hard not to be impressed by the wines coming from this active volcano. Cantine Valenti is part of this very recent phenomenon that has seen a massive uptick in investment from almost out of nowhere.
Giovanni Valenti and his son Alessandro are part of this movement, having started Cantine Valenti in 2004. Unlike investors that have come from far and wide, the Valentis are proudly from Cantania and thus have always had a strong connection to Etna. If you don't know they are Sicilian before meeting them, you will soon understand, as they have a warmth and very kind way of welcoming people that I have found to be so strongly engrained in the DNA of Sicilians.
Cantine Valenti focuses mainly on Nerello Mascalese, the true red varietal of the volcano. On the white side Carricante is their focus, again with Etna origins. The vineyards are some of the highest on Etna, the reds can be found at 700-800 meters above sea level within the famous Guardiola Cru. This section of the volcano marks the highest vineyard sites on Etna, some of which can be found at about 1,000 meters. Higher than that and you'll be taking a dip in lava at the summit!
The Guardiola happens to be the name of a street in Passopisciaro named after the "guardiola", who were guards that would take shifts standing in a tower overlooking this side of Etna looking for fires. This street of course runs right through this cru site, hence the name of the vineyards here. The hope on Mt. Etna is that wines from this part of the volcano (and others for that matter) will have this listed on the bottle so thatconsumers can begin to understand the diversity of wine from one part of the volcano to the other. Etna is full of small "contrade," different sub-districts, all of which have their own story to tell. Just like the best wine regions in the world, certain "cru sites" should eventually arise for both the white and red wines of the volcano.
It's amazing to drive up to these few hectares owned by Valenti as you are at first greeted by massive old lava flows. There is a sudden stop to the charred black ash, and out of nowhere an Eden of vines appears. A holy statue greets you and seems to be protecting the vines from further eruptions. On my last visit just recently Giovanni told me that God must have had a hand in the creation of these vineyards, as Sicilians have no other explanation.
Something does feel quite magical as you walk through the vineyard, stick your hand in the volcanic soil and glance above you to see the nearby peak of Etna. The vineyard comes together almost in the shape of a bowl with terraced plantings working their way up the volcano. The vines are 40-50 years old, but Valenti has just purchased a 100 year old vineyard directly adjacent to their other plots, where they will create some reserve wines. This new vineyard completes the puzzle as Giovanni put it, filling in this little paradise with the final piece.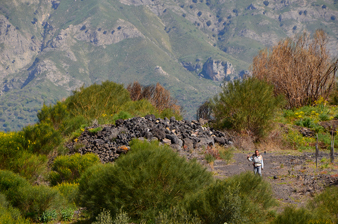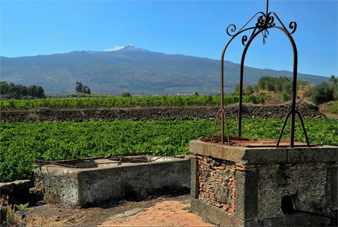 Valenti is adamant about organic practices in the vineyard, using only natural products to prevent disease and treat the vines. Giovanni always points out the incredible diversity of plant species on the property and wild herbs that his wife will come and pick to make a few of her great dishes. Grapes are harvested by hand at very low yields, in fact it would be tough for a machine to pass through the terraced vines. Historically, donkeys or other farm animals would be used to help till the land, something that still occurs at Valenti.
The winery, a converted old distillery that has been cleverly designed to enhance the winemaking process, is full of modern technology that help Cantine Valenti create their very natural style of wine. The tiniest amount of sulfites are added to the wines and all chemical substances are avoided, a strategy that has been aided by the incredible investment in modern winemaking technology. This includes a nitrogen system used during and after fermentation that enables Valenti to avoid using sulfites altogether during this period.
The Valenti's are huge fans of the arts, in fact as a youngster Giovanni studied to be an actor in Rome. His two reds Norma and Puritani are named for Italian operas by Catania born playwright Vincenzo Bellini. Enrico IV, the name of Valenti's white wine, is an Italian novel by Luigi Pirandello.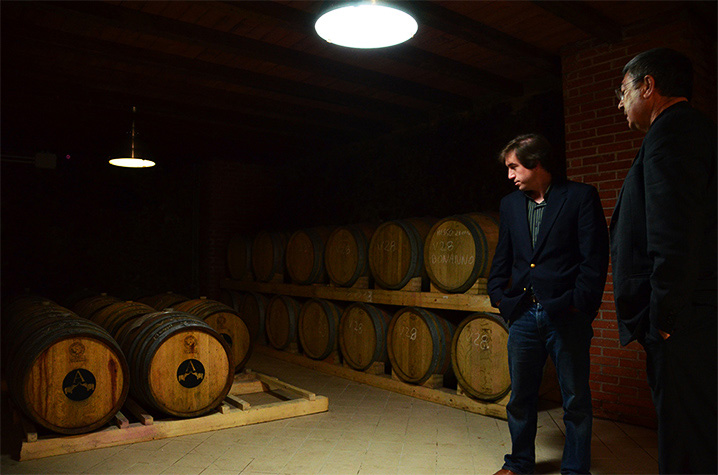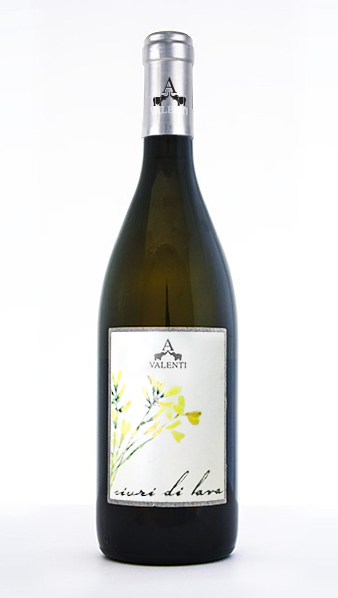 Ciuri di Lava
Sulfite Free!
Varietal : Grecanico 100%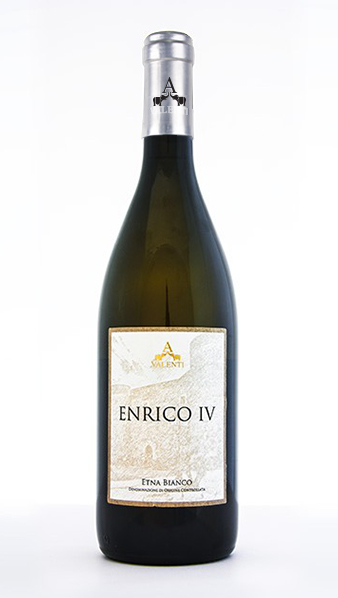 Enrico IV
Varietal : Carricante 100%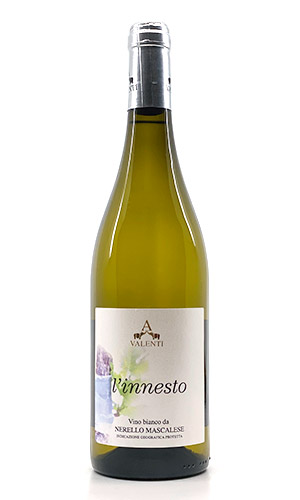 L'innesto
Varietal : Nerello Mascalese 100%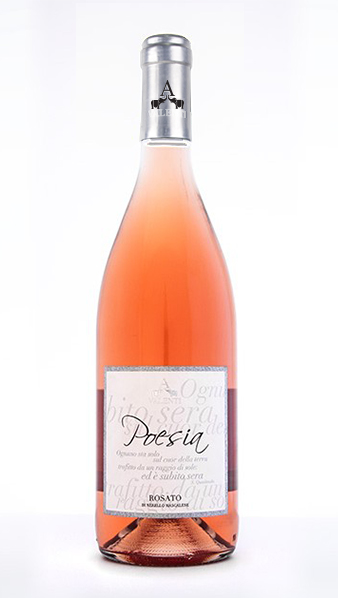 Poesia
Etna Rosé
Varietal : Nerello Mascalese 100%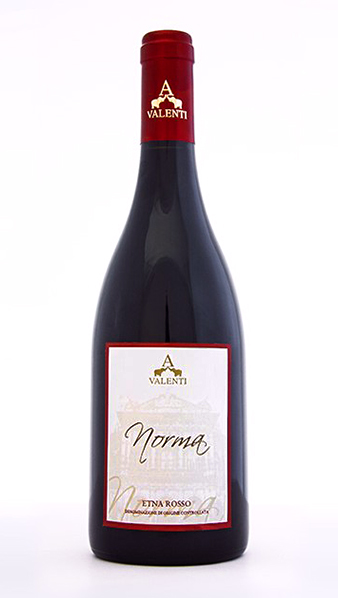 Norma
Etna Rosso
Varietal : Nerello Mascalese 98%, Nerello Cappuccio 2%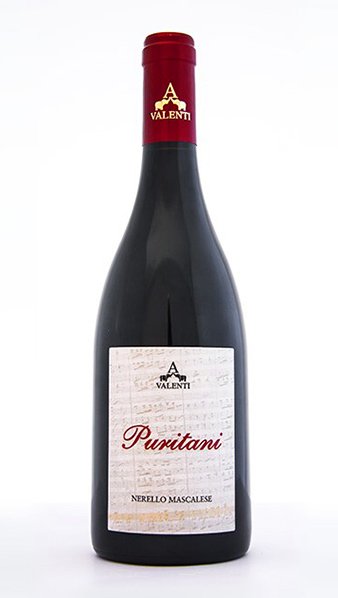 Puritani
Etna Riserva
Varietal : Nerello Mascalese 100%